Art Therapy Services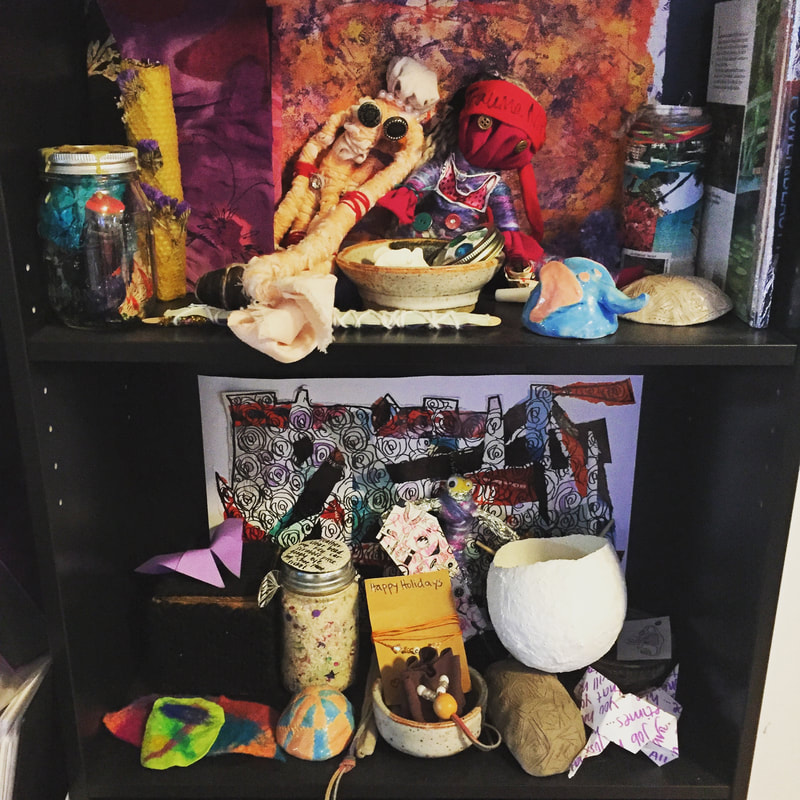 Welcome! I am so glad that you are here.
Curious about what therapy services are like with Root to Crown?
Here is what you can expect!
The
first session
is called an intake assessment. We will take some time to answer any questions you may have, review intake paperwork, and then we will dive into a bio-psycho-social mental health assessment so that I can get to know you and the experiences that you have had in your life. This appointment will take approximately 60 minutes.
The
second session
I will introduce an art therapy directive to help us explore treatment planning. This gives us an opportunity to have a conversation about what you would like to achieve in therapy, and how I can assist you in those goals. This appointment will take
approximately
50 minutes.
The
third session
will start to feel more like what a typical session is like. We will be done with all of the up front formal aspects, and can really start to dive into the work.
​Sessions last
approximately
50 minutes.
*Due to the pandemic, all sessions are currently being offered virtually.
We prefer to work in person due to the nature of our work, however virtual appointments are also available. These can be helpful during the winter when weather is dangerous, during long-term travel, when sick, after birth, and many other situations.
At Root to Crown, we use Doxy.me, a HIPAA compliant online platform.
​You will be given a link to our virtual waiting room prior to your session.
---
Payment
Root to Crown is out of network with all insurance companies, and is a fee-for-service provider.
However, you have the option of using your Health Savings Account (HSA) or Flexible Spending Account (FSA). You may also choose to seek reimbursement from your insurance independently. Please verify specific requirements for reimbursement with your insurance provider prior to your first session.
Choosing to bypass insurance allows me to work with you in a way that I find more effective than what insurance sometimes limits.
Some of the benefits or fee-for-service care include: keeping your personal mental health information private by avoiding submitting a diagnosis to your insurance provider, individualized length of services/non-time-limited services, more productive time together instead of using our session for insurance required tasks, and straightforward payment. Additionally, s
ome clients find that due to high deductibles with their insurance plans, they end up paying a high portion of the cost of their therapy sessions, and find more benefit in working with someone who they feel is a good fit for them, rather than who their insurance plan dictates for them.
​Payments are due at time of service.
​We use IvyPay, a HIPAA compliant app for therapists. We will set this up before our first session, and it becomes hassle-free for the rest of our sessions.
Our individual Services rate is $165.
Accessibility is important to us, so we are also able to offer some sliding scale slots, and some OpenPath member slots. Please communicate with us if there are financial barriers.
---
Cassie works with individual adults (18+).
​
Specialties
Art Therapy | Burnout | Complex Grief & Loss | Trauma / PTSD | Race-based Trauma | Anxiety & Depression | Coping Skills | Stress
Communities
Bisexual Affirming | Body Positivity | Gay
Affirming
| Lesbian
Affirming
|
Non-Binary
Affirming
| Open Relationships Non-Monogamy | Queer
Affirming
|
​Racial Justice
Affirming
| Sex-Positive
Affirming
Treatment Approach / Types of Therapy
Adlerian |
Art Therapy |
Culturally Sensitive |
Eclectic |
Expressive Arts |
Multicultural |
Person-Centered |
Somatic | Spirituality |
Strength-Based |
Trauma Focused
*Cassie is an unlicensed Masters level therapist, pursuing licensure under a licensed board approved supervisor
AS OF 4/12/21, I am currently only accepting clients for the WAITLIST.

As a race-based trauma therapist in the Twin Cities
during the Chauvin trial for the murder of George Floyd in Minneapolis;
in addition to the murder of Daunte Wright by police in Brooklyn Center,
I have had an influx of requests for services, and my caseload does not currently allow me to accommodate all of the individuals reaching out at this time.

If you complete the forms below,
I will respond to your email within the next few days with instructions for next steps.
I will continue to communicate with those on the waitlist as spaces become available.

Your healing matters to me.

In the meantime, check out the
"Root to Crown Self Care Guide for Social Justice Uprisings"
under the "workshops + downloads" tab.

We will continue to heal, and continue to say their names.
In healing & resistance,
-Cassie, from Root to Crown.
---